THE ECSTASY OF ODIN'S EYE
A taped retrospective that draws from COLLECTING EVIDENCE, BLOOD LORD, and THRONE/FALCON/EYE, as well as from newer poems from the time (1984). 59 mins.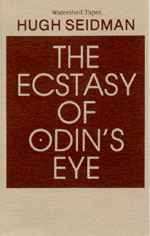 ______________________________________
THE ECSTACY OF ODIN'S EYE was originally recorded by the Watershed Foundation (Order No. C-1172. $13.95.). It was, for a time, available from The Writer's Center (Bethesda, MD).