Selected Poems: 1965-1995
SELECTED POEMS: 1965-1995* was chosen as one of the Village Voice's "25 Favorite Books of 1995" and was listed as one of the top 10 poetry books of the year - the only book published by a university press - by a panel of professional literary critics from such places as The Chicago Tribune, Esquire, The Los Angeles Times, The San Francisco Review of Books, and The Washington Post.


*Contains work from: PEOPLE LIVE, THEY HAVE LIVES; THRONE/FALCON/EYE; BLOOD LORD; and COLLECTING EVIDENCE.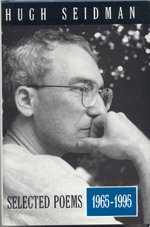 DID I SAY FATHER?

Tears "burst" from the eyes.
This is the duty of words.

Is silence better?
To look down in the street.

The world is like bread.
Mouths water.

Forgive me if I lift my hand to affirm.
Or is it to question?

Mother had been a blind date.
Love at first sight.

Dirt below black birds.
None to corroborate the fox trot.

--From the "New Poems" section



_____________________________________
SELECTED POEMS: 1965-1995 is published by the Miami University Press (Oxford, OH).

To order: click title in the "TO ORDER" column.